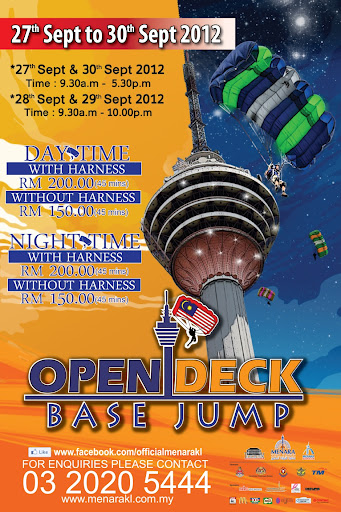 The world's most extreme sporting event the KL Tower BASE Jump 2012 is back in Malaysia this September 27th until 30th, at Menara Kuala Lumpur! For those of you who are still unfamiliar with this event, it is the only official BASE Jump event in the world. BASE jumping is the sport of using a parachute to jump from fixed objects.
B
(uilding)
A
(ntenna)
S
(pan)
E
(arth) is an acronym that stands for the four categories of objects from which one can jump. The first BASE Jump in Malaysia was on the 3rd October 1999 at Menara Kuala Lumpur.
More than 100 international BASE jumpers will be showcasing thrilling acts for the visitors of Menara Kuala Lumpur. Professionals from 20 countries gathered for the opportunity to hurl themselves into the sky before parachuting down to earth during the event. Come and watch these daredevils take the dive from the top of KL Tower. Let's just hope they don't forget the chute. This event has become a 'must attend' sports meet for the top names in the world of B.A.S.E (Building, Antenna, Span and Earth) Jumping and Skydiving.
Once again, Menara Kuala Lumpur is offering exclusive tickets to the Open Deck in conjunction with the jump. I love everything about this sport as it is fun experience not to be missed to watch the jumpers prepare themselves for their jump off the top of one of the tallest towers in the world. Visit the
Menara KL Tower website
for more information.
This is the past event of KL Tower Base Jump picture.
Visitors busy snapping away at the open deck area.